OVERVIEW
The center consists of a lobby, six galleries, the blockbuster experience Liberty's Lights, and a lounge. The key narrative and content is told through the six main galleries: Welcome, Faith, Liberty, Justice, Hope, and Unity.
THE LAMP
FLDC is a unique experience driven by The Lamp. This is a RFID and infrared device that is synced up and provided to each individual visitor. The Lamp is used to save inspirational content, and also used as a controller for interactive media.
COLLECTION POINTS
These visual motifs are placed throughout FLDC as an indicator that users can use their lamps to interact with it. The collection points can be used to collect assets, trigger animations, act as a controller in immersive interactive experiences, and more.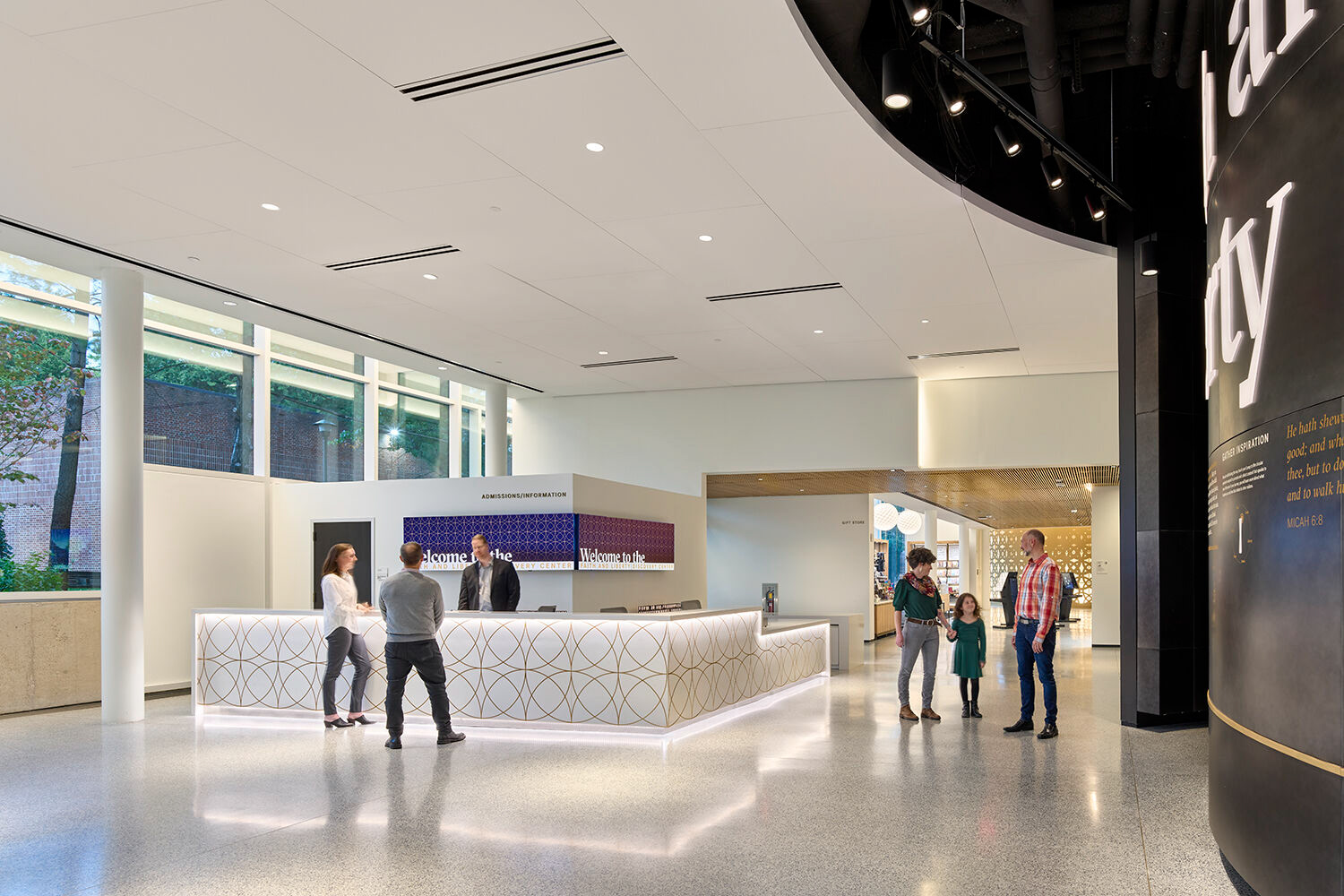 ADMISSIONS SCREENS

The admissions screens were designed to be a flexible system that could accomodate all operational/promotional needs. A 4 column system that could be used as quadrants or combined depending on the content. Every 10 minutes a welcome takeover moment occurs.
WELCOME GALLERY
A introductory linear media piece, that features a diverse cast of real people who share what the core FLDC values (Love, Faith, Liberty, Unity, Justice, Hope) mean to them. The video loop is projected in an immersive theater room.
FAITH GALLERY
The Faith gallery focuses on how faith played a crucial role in the development of Pennsylvania, and eventually our Constitution.
ALIGNMENT QUESTIONS
These are a series of questions through the Faith Gallery that prompt the visitor to touch their Lamp to the collection point if they agree with a statement. Touching a Lamp to these collection points activates these animation sequences on the wall in front of them.
ROOTS OF FAITH AND LIBERTY
This massive linear media piece is projected across a 40' curved wall surface, and follows William Penn's journey in founding Pennsylvania. The story is told across a timeline motif. As the timeline takes you across the ocean, to early American landscapes, eventually historic events create friction and shatter the timeline. As this moment slows time down, we are crossing a vacuum in time where we see fragments of positive historic events. These events show the struggles and wins to eventually leading up to Revolutionary War.
ROOTS OF FAITH AND LIBERTY - PROCESS STYLE FRAMES
FIRST AMENDMENT
This unique linear media piece features a massive 14' engraved aluminum sculpture of the First Amendment of the United States Constitution, and a projection mapped animation sequence that shows how the original foundations of our Constitution paved way for future freedoms.
LIBERTY GALLERY
The Liberty gallery focuses on those throughout history who were inspired by faith, and made a positive impact. These people are referred to as Changemakers in FLDC.
LIBERTY PILLAR
The centerpiece of the Liberty Gallery. This massive typographic pillar features pieces of scripture, cut out, and back lit. Gobos are hung above the gallery projecting the text down creating the illusion that the scripture is illuminating the room, and the people in it.
LIBERTY PILLAR - PROJECTION PROCESS

Mapping the projections for the gobo discs.
CHANGEMAKER BEACONS
The Liberty Gallery features 21 large 75" portrait screens showcasing Changemakers. 15 of these beacons are interactive, and allow visitors to freely explore the history of our featured Changemakers. 6 of the other beacons are passive and play linear media. During museum off-hours the screens combine to created a unique format of screens and showcase content visible from outside.

CHANGEMAKER BEACONS - INTERACTIVE
The interactive beacons are a flexible content system that can be used in different ways to tell the stories and accomplishments of Changemakers. The application was executed in Unity, and is pulling content from a CMS.
CHANGEMAKER BEACONS - PASSIVE
CHANGEMAKER BEACONS - TAKEOVER
During off hours, the beacons are turned into a content loop that is visible from outside the museum. This content loop includes historic figures, historic images, and a brand pattern loop.
JUSTICE GALLERY
The center consists of a lobby, six galleries, the blockbuster experience Liberty's Lights, and a lounge. The key narrative and content is told through the six main galleries: Welcome, Faith, Liberty, Justice, Hope, and Unity.
VISITOR VOICES
These 75" portrait monitors display historic speeches and visitor recorded responses to prompts that create a thematic connection between past and present.
CONVERSATION BOOTHS
Visitors can record responses to thought provoking prompts in the Justice Gallery Conversation Booths which include a touch screen for navigating the experience, and a large monitor that features a host which guides them through the experience. Select visitor responses will be uploaded to the Visitor Voices content.
CONVERSATION BOOTHS - TOUCHSCREEN APP FRAMES
HOPE
The Hope gallery focuses on those who found hope in faith during times of hardship, and in some cases tragedy.
TESTIMONIES
This program is a key component of the Hope gallery. These are a series of real, personal stories of trauma and struggles, where people found hope in scripture. The stories loop across six 75" monitors, and is activated when visitors sit next to them.

WHAT BRINGS YOU HOPE?
This interactive exhibit prompts visitors to write/draw what brings them hope using touchscreens. The user generated content is then projected on the wall above, creating a personal, yet collaborative physical/digital art piece.
WHAT BRINGS YOU HOPE? - PROCESS
UNITY
The last gallery of FLDC is a fully immersive projection mapped hallway, that allows visitors to learn about what they were most inspired by depending on their unique experience within FLDC. This experience promotes multi-user functionality, so that when visitors get close to each other, they form groups and learn what inspirations they share. The application was developed in Unity (application), and was UX intensive in design development. With the challenges brought by the pandemic, our team shifted to many virtual work sessions, where we would work real time on bringing this experience and the visual design to life.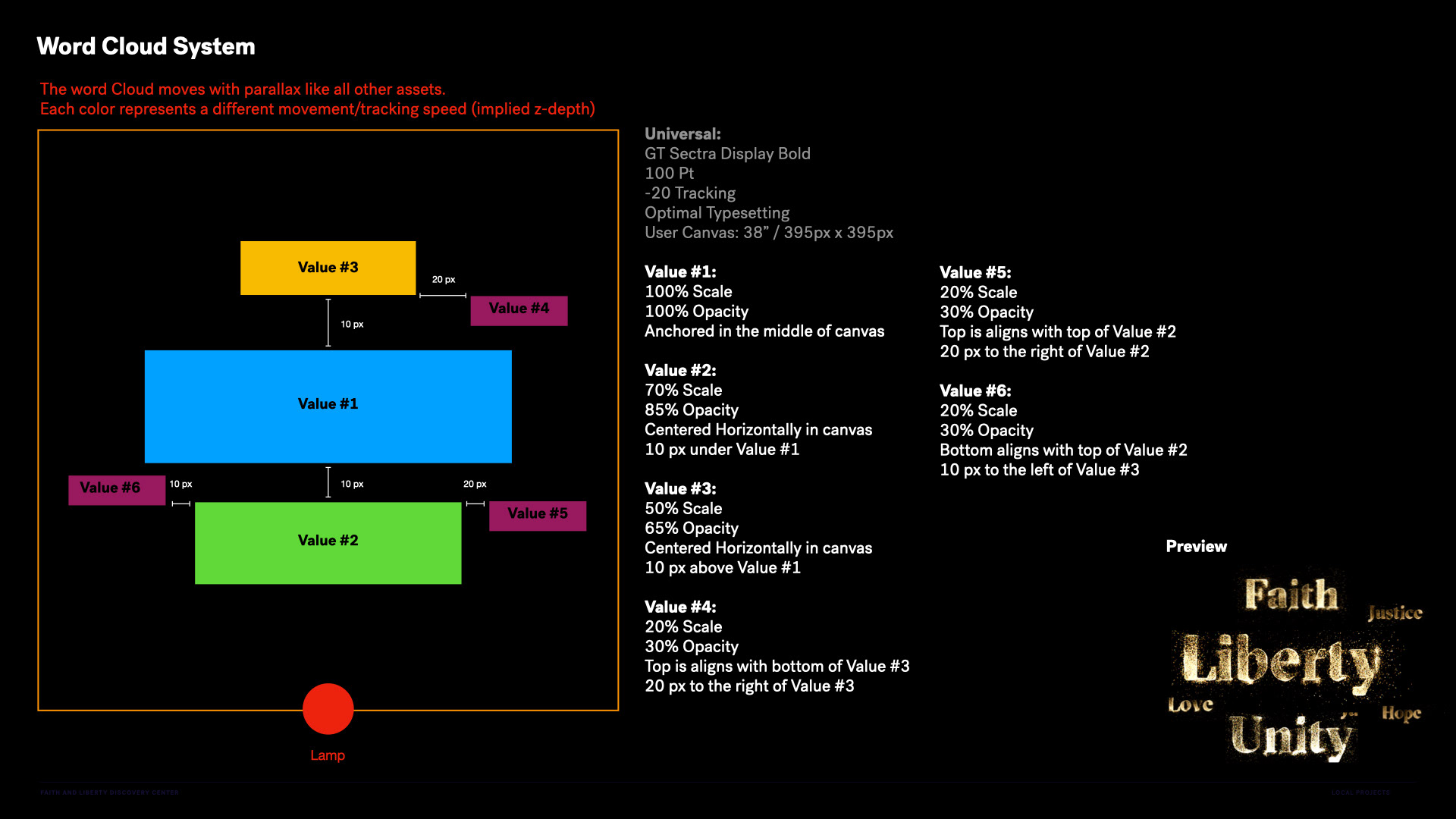 LIBERTY'S LIGHTS
Liberty's Light is a fully immersive and interactive 300º space that invites visitors to raise their lamps and take part in a direct participation of the founding of Pennsylvania. This experience includes the trials of William Penn, harrowing sea adventure, and eight interactive vignettes that allow participants to fight slave trading, social injustices, and lay the values that William Penn sought to instill in our nation.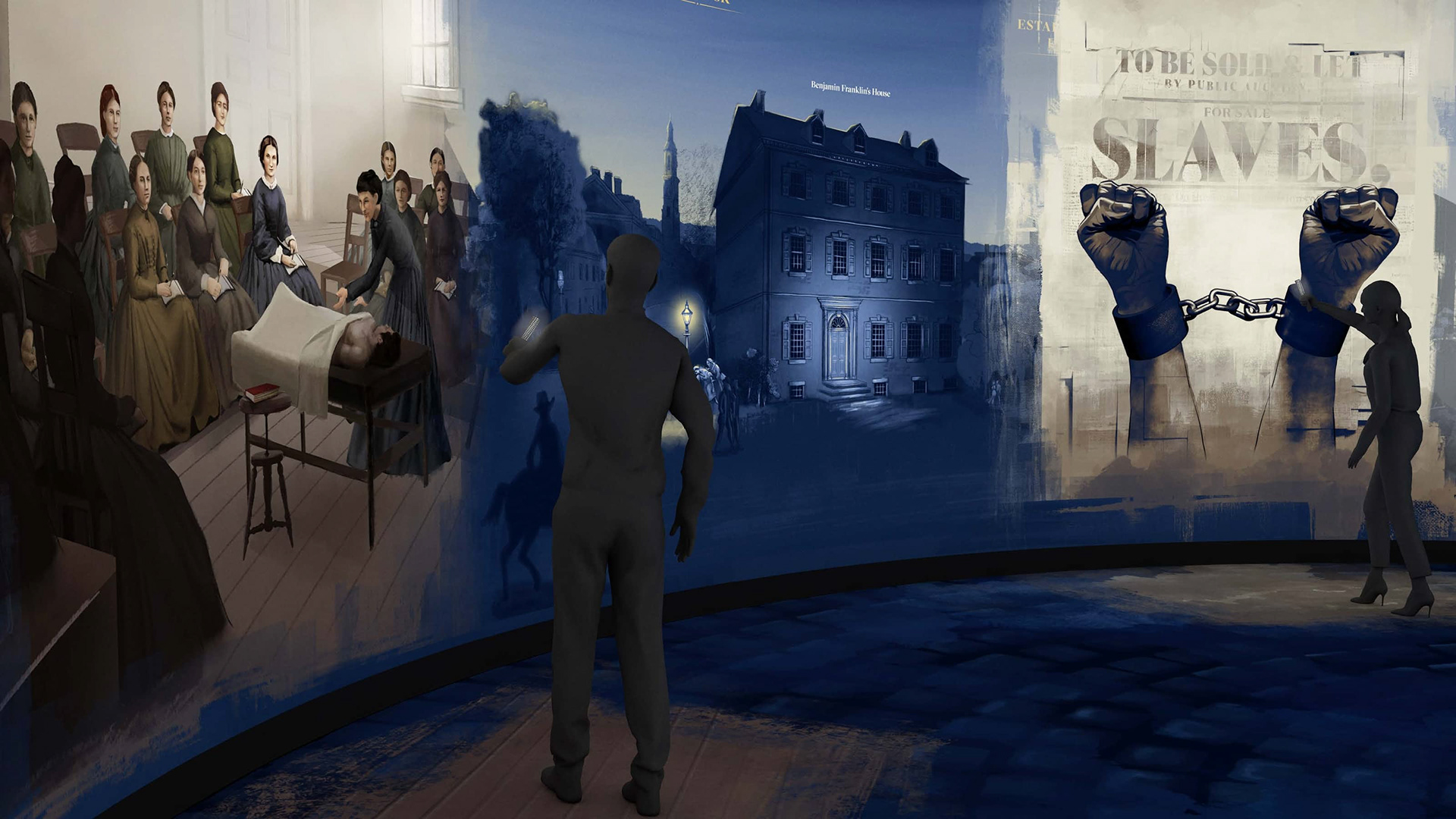 LIBERTY'S LIGHTS PROCESS
A lot of projection testing to scale, testing for best resolution, and content composition. With the additional challenges brought by the pandemic, the team had to get creative with the ways we can continue to work through elements to ensure the best user experience.
LOUNGE
The center consists of a lobby, six galleries, the blockbuster experience Liberty's Lights, and a lounge. The key narrative and content is told through the six main galleries: Welcome, Faith, Liberty, Justice, Hope, and Unity.
CUSTOM MERCH KIOSKS
Visitors can create custom merchandise with the inspirations they have collected  during their FLDC visit using one of the eight custom merch kiosks. All they have to do is touch their Lamps to the kiosk collection point and their collection library will sync to the application.
LOUNGE SCREENS
Similar to the lobby admission screens, we designed a flexible content and promotions templates for the lounge screens. These will feature a calendar of events/programing, promote the post museum web experience, and other branded messages and call to actions.
POST MUSEUM WEB EXPERIENCE
The post museum web experience was designed to be integrated with both the website collection experience, and the FLDC Lamp collections. In this experience visitors can learn more about their inspirations based on their collections. The web experience also features a collection library where visitors can see all of their collections.